Pro-Force wins Best Employer Award!
​Building on the work we did earlier in 2022 to develop new source countries, we have been back to Uzbekistan to participate in their International Labour Migration forum.
The event, hosted by the Ministry of Employment and Labour Relations, brought together organisations from across the globe to discuss the advantages of safe and legal migration.
Our Compliance Director, James Mallick, was a guest speaker at the event and was honoured accept The Best Employer award on behalf of Pro-Force. This is also recognition of the amazing growers we work with across the UK.
Whilst our Compliance Director was busy at the forum discussing international migration with delegates from across the globe, our Seasonal Worker team were even busier recruiting for our first arrivals of 2023. Through our co-operation agreement with the Labour Ministry of the Republic of Uzbekistan, we work collaboratively to recruit workers for the scheme. These workers then receive support from the Labour Ministry during the application process, and from the Uzbek Embassy whilst they are in the UK.
Recruitment events were held in the capital, Tashkent, and in Samarkand which is one of the key agricultural regions in the country. Whilst it required our team to make a marathon 10 hour round trip, it meant that 300 applicants didn't have the additional cost of travel.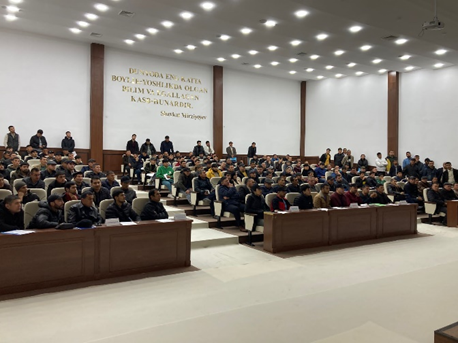 Congratulations again to everyone involved!