Pro-Force have held a GLAA Licence since 2005
​
We are committed to ensuring excellence in all areas of regulatory and legislative compliance
We are regularly audited to ensure we are meeting standards, both externally and via our own strict, bespoke Quality Management System. All our systems reflect international codes of best practice, including the International Labour Organisation standards, the Ethical Trading Base Code and of course, the GLAA Licencing Standards.
​
​We ensure that:
All recruitment methods are legally compliant, fair and reflect principles of equality and diversity

All our temporary staff have access to their statutory entitlements under the Agency Worker's Regulations

All accommodation sites meet UK H&S law, as well as reflecting the latest in best practice

All transport is legally compliant and in line with VOSA requirements

All worker management is in line with UK employment law

All internal staff have completed robust training programmes to equip them with the skills they need to be compliant
We take our social and environmental responsibilities seriously, and are aware of their far reaching implications. We are dedicated to ensuring best practice in all aspects of our business operations.
​
​_____________________________________________________________________________________________________
Our Commitment
​We are a member of a number of voluntary organisations in order to ensure we can help shape and implement best practice into our day to day operations.
​
​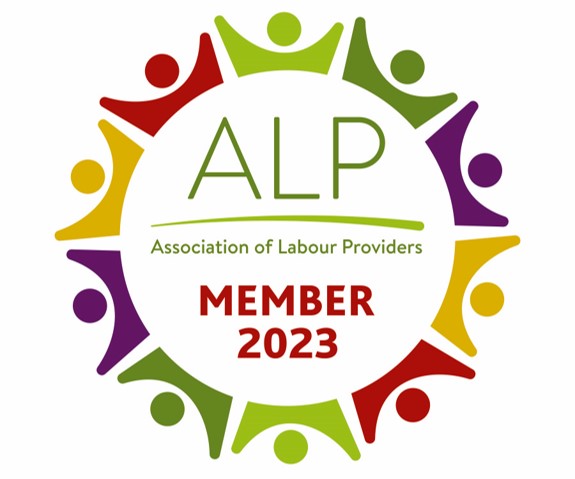 Association of Labour Providers Member
Pro-Force is a registered member of the ALP and our Managing Director, Matthew Jarrett, sits on the Member's Council.
We work closely with the ALP to address and remedy industry problems, at all levels from the ground floor to the boardroom. Ranging from tackling key issues such as the risks of worker exploitation, through to ensuring supply chain transparency.
Developing and setting best practice standards, Pro-Force implement such processes into our own business and internal procedures, ensuring we are on the edge of the latest changes and developments in the industry. Ensuring legislative adherence, client satisfaction and a competitive edge, by working with the ALP we can ensure we are the Employer of Choice for our workers, and a long term business partner for our clients.
​

Stronger Together
We have been a Stronger Together Business Partner since 2015 and recognise the vital role we play, as front line labour recruiters, in recognising the signs of labour exploitation, and putting in steps to prevent exploitation within our supply chain, and ensure the health, safety and welfare of our staff.
For further information on our procedures, please refer to our Business Partner page on the Stronger Together website.
​
Recruitment & Employment Confederation Member
As a registered member of the Recruitment and Employment Confederation, we abide by the REC's Code of Professional Practice. We are committed to raising standards and highlighting excellence throughout the recruitment industry. We focus on managing risks, developing standards of excellence and developing our staff – both our workers and our employees.​

Responsible Recruitment Toolkit
Responsible Recruitment Toolkit (RRT) are a not-for-profit global programme whose mission is to drive ethical and professional recruitment and labour supply that's good for workers, recruiters and clients. We are proud to have completed the RRT self-assessment and scored 98%, and to be RRT Business Partners. For further information on our business partner status, please refer to the relevant page on the RRT website.
​

Our Policies
Find out more about our policies